About 16 Sounds
16 Sounds is a music software company specialized in sounds and presets for plugin instruments from developers like Native Instruments, Spectrasonics, Arturia and Izotope. 
The company was founded i 2019 and needed a new website with ecommerce and god SEO support.
Project requirements
Website with a fast and easy extendable cms
Ecommerce with PayPal
The Umbraco webshop solution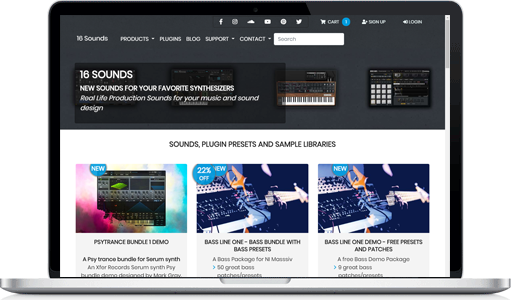 16sounds.com ecommerce seo support case. Organic trafic optimization and link building.
 The solution is made with the following:
Umbraco with Umbraco 7 cms
.NET C#
SQL Server
SEO support
Hosting and support
Sendgrid for all emails and campaigns 
Fast and easy backend
A fast and user friendly backend is part of a succesful projekt. For that the customer chose Umbraco. 
Ecommerce SEO and inbound marketing
A god Search Engine Optimized and performing site solution was an important part of the requirements.
The free templating makes Umbraco a good flexible system for build fast and SEO friendly solutions.
Organic traffic optimization
Keyword research
Linkbuilding
Social media campaigns